Geomajigs: The Coloring Book
About 3-4 years ago a coworker of mine told me, as he was staring at my screen over my shoulder, that I should put my work into a coloring book. Alas and alack, at that time, coloring books for folk with discerning art tastes were not a thing. Lesson 1, don't wait for trends.
Now that they are a thing (a well established thing), I've gone and done that which I should have years ago – compile a coloring book: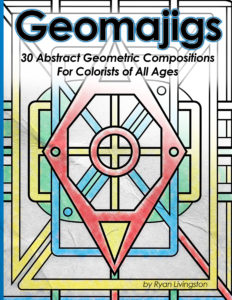 Geomajigs: 30 Abstract Geometric Compositions for Colorists of All Ages
The figures draw some influence from the art deco, op art and constructivist worlds, which lends themselves to coloring. I wanted to do something different than I've been seeing. A lot of the coloring books featuring non-figurative art gravitate towards flowers and/or mandalas. And while I do dabble mandalas, this book consists of the geometric styled pieces you've come to know over the years. However, with the exception of "Cornerstone," the images were made just for the book (though they'll show up elsewhere later).
This was a definitely a labor of love. I don't think I had ever finished so many pieces in one span as I did with this. It also broadened my horizons a bit as I started live streaming my screen as I worked on some of these. I hope to make this more of thing as I go on. I even made a (I think) snazzy promo video:
And here are a few sample pages right from the book: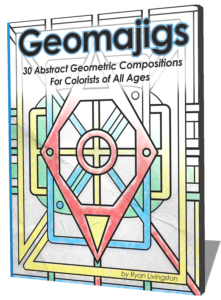 Geomajigs is now available from Amazon.com, and qualifies for Prime shipping. Please allow for additional processing time, as this title is print-on-demand, i.e. hot off the press just for you.